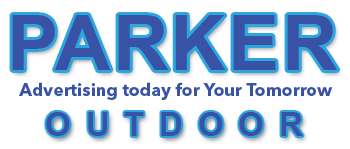 DIGITAL
Billboards
Are
Good
for
Your
Business
The U.S. Small Business Administration recommends spending 7 to 8 percent of gross income for marketing and advertising if you're doing less than $5M a year in sales and your net profit margin is in the 10 to 12 percent range. The Wall Street Journal reports that successful businesses spend 7.5 percent on average.
What you can expect at Parker Outdoor:
BIGGER NETWORK AREA
Digital units can be networked together, showing your ad at the same time in both cities.
HIGH IMPACT
Digital media attracts attention and looks like a TV ad.
EASY AD COPY CHANGES
Your ad copy can be uploaded by the next day.
Run numerous ads and have them rotate.
LOWEST COST PER THOUSAND
Billboards provide lower cost per customer advertising than TV, Radio, and Internet.
EASY TO PROMOTE
Easily promote upcoming events, weekend specials, product specials, and more.
UNIQUE ADVERTISING
These digital billboards are the only ones in Everett and Woodinville,
and will make your business stand out.
Digital Signs 2 North & 17 West



Seattle Area – Woodinville, Everett – Digital Poster Billboards





SIGN #


LOCATION
VISIBLE TO
FACING
SIZE (ft)
DAILY COUNT
LATITUDE/
LONGITUDE

2

24105 SR-522
Wdv/Snohomish Rd, Woodinville

Southbound

North

10 x 24 Digital Poster


28,000

47.778161,
-122.148727

17

12198 Airport Rd
(E of SR 99 & 128th)
Everett

Eastbound

West

10 x 24 Digital Poster

28,000

47.877120,
-122.257038
FULL SLOTS – 8-second ad display every rotation (64-seconds).

HALF SLOTS – 8-second ad display every other rotation (128 seconds) as space allows.
Multiple Sign Package Pricing
Multiple slots gives increased exposure!


Rent the only 2 Digital Signs in Woodinville and Everett!

Show your ads at the same time in both cities.

Increase your market presence using this newest technology in Billboard Advertising.
Sign 2 North – Digital Poster

Sign 17 West – Digital Poster